Calendar of Free Activities
Unless otherwise stated, these activities are free for everyone thanks to the generosity of our funders, volunteers, partners & friends.
Please share our events on Facebook. Also, why not become a member of MEHG because membership is free! Active members can seek reimbursement for personal equipment, training and expenses, subject to funding.
Do you have a free environmental activity that you would like posted here? Or are you interested in becoming a volunteer to help us at our events? All enquiries to info@mehg.org.au
---
Sunday 29th January 2023 · 9.00am – 10.30am
FRIENDS OF SAMPHIRE COVE NATURE RESERVE
The Friends of Samphire Cove meet on the last Sunday of each month (and usually mid-month as well) to carry out flora and fauna rehabilitation and to tidy up this special waterside A Class reserve on the corner of Wedgetail Retreat and Egret Point Road, Halls Head.
Jobs for January include watering, weeding, sweeping paths and picking up rubbish. If you would like to join in, please bring gloves, drinking water, insect repellent, hand sanitiser and your favourite tools/equipment.
At 10.30am the friends meet and greet at the Information Shelter and enjoy BYO morning tea.
Visit the Friends of Samphire Cove on Facebook for all the latest news.
---
Thursday 2nd February 2023
WORLD WETLANDS DAY
This special day marks the signing of the Ramsar Convention, an intergovernmental treaty that calls for the member countries to maintain the ecological use of their wetlands. It is a day to remember the importance and fragility of our native wetlands, and maybe enjoy a walk around Samphire Cove Nature Reserve or Creery Wetlands.
Watch the video
Find out more
Quiz Question: Where is the largest and most diverse estuarine complex in Australia's South West?
Answer
---
Thursday 9th February 2023 · 5.30pm
MANDURAH ENVIRONMENT & HERITAGE GROUP COMMITTEE MEETING
In 2023 our committee meetings will be held on the second Thursday of each month in the Community Corner at Halls Head Central in Guava Way.
Members and supporters are welcome to:
· Attend in person or on Zoom. Contact us for the Zoom password.
· Send in your ideas for the committee to discuss.
Join MEHG or renew your membership. It's currently free and there's no obligation!
Volunteers are currently needed for: organising activities, assisting at events, building nest boxes, planting trees, watering, mulching, etc. Join us!
---
Saturday 18th February 2023 · 11.00am – 1.00pm
ENVIRONMENTAL VOLUNTEER WORKSHOP & NETWORKING EVENT
Current and potential volunteers are welcome to join this workshop to learn more about operating as a volunteer on City-owned land, and take part in some networking and collaboration.
This workshop will cover:
· Information about insurance and safety requirements while operating on City land;
· Opportunities to protect and nurture our local environment;
· What support is available to facilitate your volunteering and to build your capacity.
Location: Tuckey Room, Civic Centre, 83 Mandurah Terrace.
Find out more.
---
Friday 24th February 2023 at 8.00am
BIRD WATCHING OUTING to NAIRNS
Save the date for the next Mandurah Bird Observers Group outing. Details to follow.
· Bring: Chair, morning tea, binoculars, camera and insect repellent.
This group visits the beautiful waterways and bush areas in and around Mandurah to observe what species of birds are in the area. They record the species identified and report their findings to Birdlife Australia.
They have been bringing bird lovers together for over 30 years and normally have outings on the 4th Friday of each month.
There are over 120 species of birds in the Peel Region and numbers increase during the migratory season.
This is a great opportunity to learn more about our wonderful bird life and how to identify birds.
View the Mandurah Bird Observers Group program for 2023
---
Sunday 26th February 2023 · 10.00am – 11.00am
WALK & TALK by SARAH WAY: "FAREWELL FEATHERED FRIENDS"
Join local zoologist Sarah Way from Ways To Nature to farewell Mandurah's feathered friends as our remarkable migratory shorebirds prepare to fly back to their breeding grounds in the northern hemisphere. Learn how important Mandurah's wetlands are to support these special summer visitors and be amazed by stories of their special adaptations allowing them to fly across the globe and back every year!
This free event will be held at Samphire Cove Nature Reserve.
To book your free place please email bjsdoongin@gmail.com quoting Walk & Talk.
A few pairs of binoculars will be available to share for bird watching together as we walk along the trail and visit the bird hide – but BYO if you have a pair.
---
1st – 31st March 2023
CLEAN UP THE PEEL
Clean Up Australia Day is on Sunday 5th March 2023 but Clean Up The Peel runs throughout the month of March.
Your group, your school or your family can choose where and when to spend a couple of hours cleaning up your neighbourhood or local park. Register your clean-up now to receive a free starter kit that contains bags, gloves and everything you need to create a safe, fun and effective clean-up in time for March. Businesses pay a small fee to help cover costs.
---
Thursday 9th March 2023 · 6.00 – 8.00pm
DOLPHIN WATCH TRAINING
Learn how to identify our amazing dolphins of Mandurah and report your sightings using the smartphone app at this free Dolphin Watch evening hosted by the River Guardians, Estuary Guardians Mandurah and Mandurah Dolphin Research Project.
The new 2023 Mandurah FinBook will be given to attendees on the night.
Venue: Seniors & Community Centre, 41 Ormsby Terrace, Mandurah 6210
Book: eventbrite.com.au/e/dolphin-watch-mandurah-training-tickets-476200266817
---
Every Tuesday · 8.30am – 11.30am
PAINTING IN OUR NATURAL ENVIRONMENT
Find your artistic bent with the Mandurah Plein Air Artists. Mention MEHG and enjoy your first 3 sessions free.
Find out more: https://mandurahpleinair.com and www.facebook.com/groups/503384883171190
---
Saturdays & Sundays · 9.30am – 11.00am 
FREE GUIDED WALKING TOUR OF MANDURAH'S WATERWAYS
Departing from the Mandurah Visitor Centre, this walk will take you on a journey around Mandjar Bay and the Eastern Foreshore. The tour provides an overview of Mandurah and its history and discovers places of interest and quirky art installations along the way.
Find out more and book your free place.
---
BIRD WATCHING FOR BEGINNERS with ROBYN DEVENISH
Coming soon to a nature reserve near you. Small-group activity.
Binoculars provided courtesy of City of Mandurah community grants.
These tailor-made walks are free of charge, but you are welcome to tip your guide at the end if you enjoyed it.
Register your interest by emailing info@mehg.org.au
---
MAKE A BIRD NESTING BOX or FAIRY TERN CHICK SHELTER
In conjunction with your local Men's Shed. Register your interest as a participant or a partner: info@mehg.org.au
In the meantime, get some inspiration from www.abc.net.au/gardening/factsheets/bird-box/13599442
Download this PDF for more information about the nest boxes.
Download this PDF for more information about fairy terns.
---
MORE FREE ACTIVITIES including STUFF FOR KIDS
• Free Eco Events Perth to Serpentine with Switch Your Thinking
• Visit Nature Link's Backyard Biodiversity Blitz
• Bring Nature Home and Rewild Your Garden 
• Learn how to properly Recycle in Mandurah
• Adopt a Spot to keep it litter free
• Form or join an Embrace A Space group at your local reserve or park
---
CANCELLED UNTIL FURTHER NOTICE
Due to unforeseen circumstances we can no longer offer a screening of the educational movie 2040: Join the Regeneration
Also the interactive citizen science workshop about the Black Bream Project in the Peel-Harvey Waterways can no longer proceed. Here is a condensed version for you, including an eleven-minute video: recfishwest.org.au/news/filling-the-peel-harvey-estuary-to-the-bream-with-the-important-fish-species
---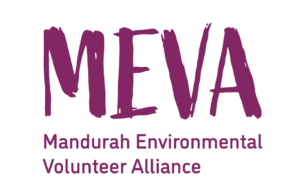 Thank you to our partners and sponsors. MEHG is a member of the Mandurah Environmental Volunteer Alliance which supports many projects in our community, predominantly through marketing, community engagement and the provision of insurance.