THIS EVENT HAS BEEN POSTPONED UNTIL FURTHER NOTICE.
The Peel Region Western Ringtail Possum Action Group is offering MEHG members and friends a free guided WILD possum encounter on Saturday 28th March at 6.00pm in Dawesville.
Wildlife carers Allison Dixon and/or Barbara Sing will guide you through the bush to meet some of our local Western Ringtail Possums. These beautiful little creatures are now critically endangered, but Allison and Barbara know where they are and everything about them. The Dawesville possums even have their own bridge!
What you will need to bring: Mosquito repellent, boots or trekking shoes, long sleeves, long pants, your own water to drink and an LED head light. You can also bring a torch as long as you don't point it at the possums. If you would like to fill in a data monitoring sheet, please bring a clipboard and pen. (We have a few spare clipboards if you don't have your own.)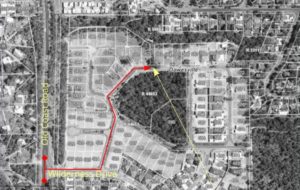 Meeting Point: Gumnut Possum Bridge, Jinatong Loop, Dawesville 6211. Click on the map to enlarge. Map courtesy of the Bouvard Coastcare Group.
Register with Barbara on 0418 935555 or email barbarasing2007@gmail.com Please provide your phone number and email address in case of cancellation. Find out more at www.facebook.com/PeelRingtailPossum  
Health & Safety Information: The trail is on well marked limestone tracks. Participants are required to acknowledge that they participate at their own risk by signing a waiver before the event. Participants are also required to follow Government guidelines about hygiene and distance.
Earth Hour is from 8.30-9.30pm local time. It started off as a grassroots movement developed by the World Wide Fund for Nature's (WWF) Australia branch more than a decade ago. The aim was to encourage turning off non-essential power as a commitment toward the planet and the climate change crisis. It has since transcended into a worldwide, global movement, encouraging anyone and everyone to step up and save the planet through measures big and small.