Friends of Rivers, Peel in partnership with Peel-Harvey Catchment Council coordinates this month-long event. Now in its fifth year, the annual Clean Up Peel Waterways event has expanded to include parks, reserves and neighbourhoods and has been renamed Clean Up the Peel.
Register your group for the annual CLEAN UP THE PEEL event this March
We encourage all groups participating to hold their clean-up events between 1st & 31st March to tie in with Clean Up Australia Day. Groups taking part will be publicly acknowledged through various social media streams with a minimum full-page advertisement in a local paper which will spread the word about your clean-up and attract much-needed volunteers. If you would like Dudley Dolphin to feature at your event, or if you'd like some free Dudley Dolphin Adventure Journals to give to the kids, please let us know.
Last year's efforts were cut short because of Covid-19, but the previous year 17 teams and 300 volunteers worked together and removed 7 tonnes of rubbish from in and around the Peel waterways of the Ramsar 482 site. This year we want the event to be even bigger and better and involve more of our community so we can really make a difference to our local environment.
Steps you need to take to register:
1. March will be here before you know it so please register your site with Clean Up Australia so that your free equipment arrives in time. Clean Up Australia also provides public liability insurance, so this step is very important and necessary for a successful clean-up event.
2. Fill in this registration form (required) with your event details. This is used to promote your event locally by social media and print media. Please email your completed form by 19th February to info@mehg.org.au
To join an existing Clean Up the Peel event this March please visit www.cleanupaustraliaday.org.au/join-a-clean-up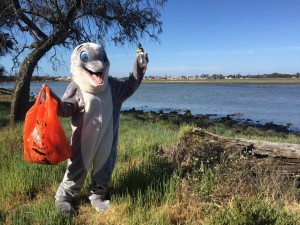 Please share this information with others in the Peel region. Thank you for doing your bit to clean up our beautiful waterways, beaches, parks, reserves and neighbourhoods.
Conditions of Participation
• Wear suitable sun-smart clothing and suitable enclosed footwear.
• Bring along your gloves, sunscreen, insect repellent and water bottle.
• All events are held outdoors and are weather permitting.
• Children under 16 years of age must be accompanied by an adult.
If you're concerned that we may be in lockdown or under restrictions in March, we accept that all planning is tentative. If you cannot use your free bags, gloves, first aid kit, etc. in March, you can either use them another time or we can find them a good home.
NEW: Here are all the clean-ups registered with MEHG. Many thanks to Charlie Jones and the team at Peel-Harvey Catchment Council for the poster and media release.
NEW: If you are planning to dine at Grill'd Mandurah during the month of March please put your Local Matters token in the Mandurah Environment & Heritage Group jar. Thank you for your support.

If you found us as a result of Club Connect's Biggest Come & Try Event, you are most welcome to join us during the Clean Up Australia Day weekend to get out, get active, have fun and make new friends.
---
For a summary of how this event panned out in 2020 please visit peel-harvey.org.au/clean-up-peel-waterways-2020